'Tis the seaon for pies! As you prepare your menu consider this prize-winneing Chocolate Mint Pie to impress your guests!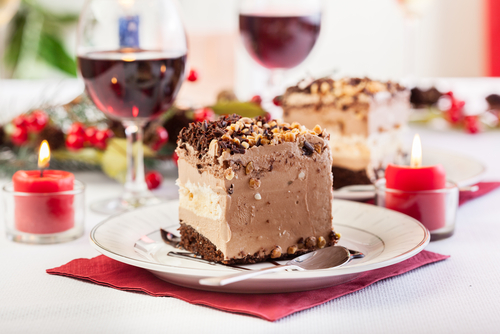 Crust:
1 cup graham cracker crumbs
1/2 cup finely chopped pecans
1/4 cup sugar
1/4 cup melted butter *NOT margarine
Filling:
1/2 cup butter, softened *NOT margarine
1 1/2 cups powdered sugar
1 teaspoon vanilla extract
1/2 teaspoon peppermint extract
2 eggs
2 squares (1 oz. each) unsweetened chocolate
1 cup whipping cream; whipped
Garnish:
1cup whipping cream, whipped and sweetened
Finely chopped pecans
Maraschino cherries
To prepare crust, combine graham cracker crumbs, chopped pecans, sugar and melted butter. Press into 9-inch springform pan. Chill while preparing filling.
To prepare filling, cream butter and sugar. Beat in flavorings. Beat in eggs, one at a time, mixing well after each. Beat in chocolate. Fold in whipped crea,. Pour into crust. Chill overnight.
Before serving, garnish with whipped cream in decorative pattern applied with pastry tube. Sprinkle with nust. Place cherry in center.