For years Troy and I have given Easter baskets to our children. We try to live a lifestyle of hope, not just telling them the story of our new life in Christ but encouraging them to remember that every good or bad choice they make today will form their future.
I believe this next generation of the human race will be the most loving, the most considerate, and they will be amazing world changers.
It is so important to teach children to give each other a second chance. My young son had a boy who would not stop teasing him about being chubby . I wanted to make a fuss, chase his mother down and protest but … my son chose to forgive and worked to make friends with the boy…Now, they are not besties but they are careful not to offend each other. This is AMAZING! It is possible to disagree and not offend each other! So, quietly in my heart I celebrate his good choice! 
Celebrating each step in life is what we do best around here! I know some folks have to have the finest chocolate bunnies for Easter. I do! It's silly of me but I do need chocolate! 
 So, in each Hopey & Co. we have an amazing selection of candy to fill any candy dish or Gift basket you have!
I love our town. I shop for local products everyday you can to, at Hopey & Co we have these local products… 
Gladheart farms –
Every week we order granola from our Gladheart farm. It sells out so fast because the organic oats and butter are mixed and baked in small batches to keep the granola fresh. The chocolate granola, and it is really good as well!
We sell the Yerbamate energy bars as well. 
Brasstown Beef –
Brasstown Beef is available in fine restaurants, charcuteries, and we are proud to say our Meat Market.  Members of: Appalachian Grown 
Trust me when I say this beef some of the best grass-fed beef I have ever tasted and this is a family business is one we can love to love! Steve Whitmire and his family are all about raising cattle with out using unneccessary antibiotics or added hormones.  Check out their website to learn how the cattle are fed.
Dynamite Coffee –
Dynamite Roastery and coffee just happens to be neighbors to our Black Mountain Market.    
We brew and sell several types of the fresh roasted beans in each Hopey & Co. Markets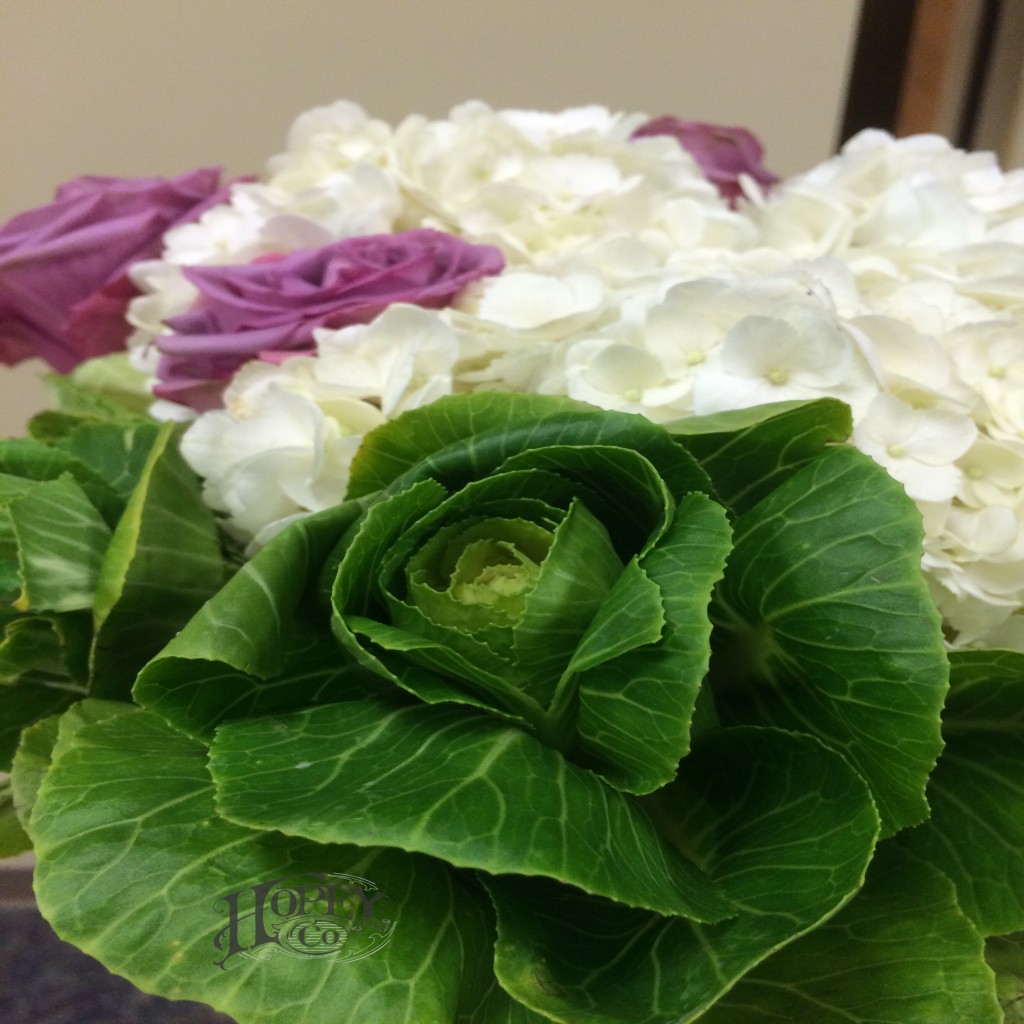 Some times I pretend to be tourist and wander around town shopping for colorful treats.  It's true, every shop in town is preparing to dazzle our 5 senses.  I often hear my friends say we eat with the eyes first.  So, for an eye-catching table topper this Easter,  I will use artichoke blossoms, green grapes, green pears, and broccoli stems for flowers. All found in our Hopey & Co. markets.
Just in time for spring our Hopey and Co. markets are carrying spring lettuce mixes. Which are fresh baby lettuces and herbs, they bring the essence of spring into my kitchen. I love to make this amazing salad! I hope you will too.
This is what you need to make this lovely salad. 
Spring Greens with Strawberries And Almonds
6 cups spring greens
1 cup sliced fresh strawberries
1/4 cup crumbled bleu cheese 
1/2 cup Hopey&Co. slivered almonds (optional)
3/4 cups poppy seed salad dressing
garlic and herb croutons (optional)
Divide the spring greens among 4 salad plates. Arrange the strawberries and bleu cheese on each salad. Sprinkle with almonds, just before serving drizzle with the Poppyseed dressing salad dressing. 
Hopey & Co. Poppyseed Dressing
This dressing is the perfect sweet and tangy flavor combination and comes together in 5 minutes  left over dressing may be stored in the refrigerator for two weeks.
In a cute pint jar I mix…
1 tsp Dijon mustard
1/4 tbsp Poppy seeds
1 pinch of salt
1/3 Apple cider vinegar
1/3 cup Vegetable oil
1/2 cup Greek yogurt, plain  
1 tbsp minced yellow onions
add all ingredients into a little pint size jar and shake.  
Sprinkle your salad with the garlic and herb croutons for added crunch.
The bottom line is you can choose any bread and oil you love . Seriously , homemade croutons are super easy to make, just choose 5 slices of your favorite bread place them on a lightly greased baking sheet. Cut the bread into bites size chunks sprinkle with olive oil, powdered garlic, and a pinch salt and pepper, toast in the oven at 350' on a cookie sheet till they are golden brown about 10 minutes. 
                                Enjoy my sunny salad any time you are feeling blue, 
                                                                 Danette and Troy Hopey